Eclipse 384: It's the best interface I've used.
C'est tout ce que j'ai maintenant; J'avais des racks remplis de matos. J'enregistre des vocals, guitare et basses dans l'Apple MacBook Pro via une chaîne de signaux comprenant plus d'une Antelope Eclipse 384, une Bande de canaux API et un microphone Shure. C'est pratiquement tout mon Studio dans le même boîtier. C'est la meilleure interface que j'ai jamais utilisé. J'adore le fait que tout y est.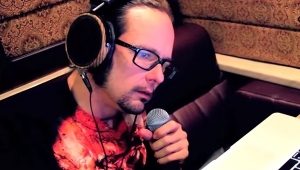 "En utilisant des équipements de production audio de qualité supérieure tels qu'Antelope Eclipse 384, je peux produire et sortir des masters prêts ici-même dans l'autobus ou dans ma chambre d'hôtel. L'Eclipse est essentiel, parce qu'il me donne tout ce dont j'ai besoin pour travailler sur la route, et pas seulement pour faire une démo. Je garde ce que je conçois sur la route et ça sonne bien, ce n'est pas une démo que je dois retravailler ou ré-enregistrer plus tard".
Korn a secoué le monde du nu-metal à la fin de l'année 2011 lorsque le groupe basé à Los Angeles a sorti son dixième album, « Path of Totality » avec la collaboration d'animateurs et producteurs dubstep parmi lesquels Skrillex, qui a remporté plusieurs Grammy Awards. Maintenant, le frontman de Korn, Jonathan Davis, insiste doublement sur sa récente déclaration selon laquelle "le dubstep nord américain est le nouveau heavy metal électronique" par un projet parallèle, Killbot, et un projet sous son nom de DJ, J Devil.
Davis, qui a épousseté ses platines il y a à peu près trois ans et qui est DJ sous le surnom J Devil, est un passionné de longue date de la musique électronique. Il produit des remixes influencés par le dubstep pour des artistes de nu-metal depuis plusieurs années. Ayant commencé par créer de la musique électronique à partir de son ordinateur portable "pour le plaisir", Davis fait équipe maintenant avec des producteurs de dubstep et des leaders du metal Sluggo et Tyler Blue pour former Killbot, une collaboration "metalstep" qui a signé pour le label du record Steve Aoki Dim Mak et a annoncé le projet de sortie d'un album de quatre titres. Il y a aussi un album solo de J Devil en préparation.